Networked Intelligent Control Lab
Led by Dr. Yun-Bo Zhao (赵云波), Professor, SMIEEE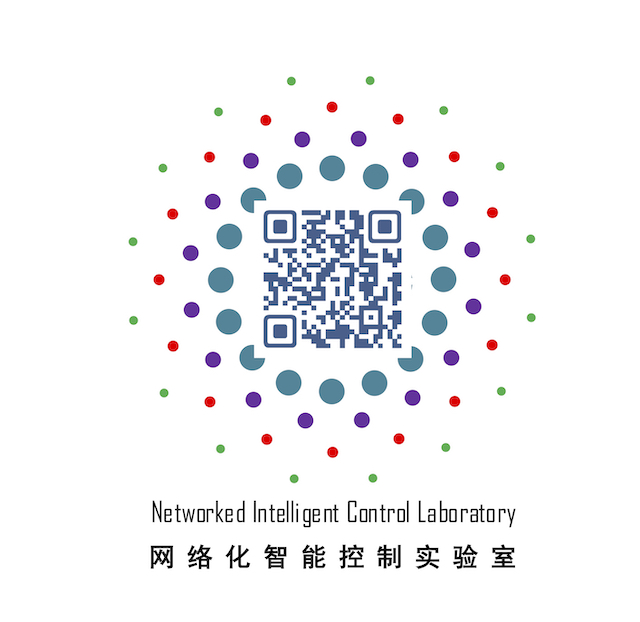 Dr. Yun-Bo Zhao(赵云波)
Department of Automation
University of Science and Technology of China
Hefei, China
Email: ybzhao@ustc.edu.cn
The Networked Intelligent Control Lab (网络化智能控制实验室,"NIC Lab") is led by Prof. Yun-Bo Zhao(赵云波) with Department of Automation & Institute of Advanced Technology, University of Science and Technology of China, Hefei, China(中国科学技术大学自动化系 & 先进技术研究院), and also with Institute of Artificial Intelligence, Hefei Comprehensive National Science Center (合肥综合性国家科学中心人工智能研究院).
The NIC Lab is generally interested in the following research fields.
AI驱动的控制智能AI-Driven Control Intelligence: 无线网络下控制和通信的联合设计及系统安全、大数据驱动的无模型控制和"云管端"新通信模式下控制系统的架构分析等理论问题,及在智慧工厂、智慧物流、绿色建筑、特种移动机器人等领域的应用。The co-design of wireless networked control systems and its security, Big Data driven control, cloud control, and relevant applications in smart factory, smart logistics, green building, dedicated mobile robots, etc.

AI驱动的工业智造AI-Driven Industrial Intelligence: 非可信的人工智能在智能制造场景下的系统性分析,满足可靠保证的工业人工智能基本方法,和典型工业场景下的可靠智造关键技术和应用示范。Systematic analysis of unreliable AI in the smart manufacturing context, fundamental methodologies of reliable industry AI, and key technologies of reliable smart manufacturing for typical industry scenarios.

AI驱动的人机智能AI-Driven Human-Machine Intelligence: 面向自动化控制的人机混合智能基本理论和方法,包括人机自主性和人机信任的量化和分析,人机控制中的介入和共享控制基本方法,和人机对抗中的人机博弈基础模型和策略等方面,及其在人机共驾、复杂空战人机对抗、智能制造等领域的应用。The fundamental theory and methodologies of control-oriented human-machine hybrid intelligence, including aspects such as the quantization and analysis of autonomy and trust in the human-machine context, the fundamental methodology of traded and shared control, and the models and strategies in human-machine games, as well as relevant applications in human-machine co-drive, human-UAV confrontation, smart manufacturing, etc.
Prospective Master and PhD students are always welcome to join the NIC Lab. Please feel free to drop an email if interested.
欢迎有志于从事人工智能、自动化等相关领域学习和研究的博士、硕士和优秀本科生加入我们的研究团队。如需更多信息,可发邮件联系,也可先与实验室现有成员联系了解。
news
| | |
| --- | --- |
| Aug 24, 2023 | 马树森论文被《Applied Intelligence》接受发表 |
| Aug 15, 2023 | 合作论文被《IEEE Transactions on Circuits and Systems II: Express Briefs》接受发表 |
| Aug 1, 2023 | 欢迎实验室新成员欧阳晨 余碧桢 席嘉滢 张雯 黄康杰 黄润山 何创创 范冰 |
| Jul 1, 2023 | 祝贺张年坤 李明 殷书慧 王涛 刘朝虎 完成学业,奔赴新岗位! |
| Apr 14, 2023 | 合作论文被《IEEE Transactions on Cybernetics》接受发表 |
| Nov 27, 2022 | 游诗艺、张倩倩同学论文被《中国科学:信息科学》接受发表 |
| Aug 6, 2022 | 合作论文获 2022 International Conference on Guidance, Navigation and Control (ICGNC 2022) 最佳会议论文奖(冯如奖) |
| Jul 28, 2022 | 实验室参与筹备组织第41届中国控制会议(CCC2022)线上会议 |
| Jul 15, 2022 | 合作论文被《IEEE Transactions on Systems, Man and Cybernetics: Systems》接受发表 |
| Jul 15, 2022 | 合作论文被《IEEE Journal of Biomedical and Health Informatics》接受发表 |